475 Sandy Lane, Suite G, Surfside Beach, SC 29575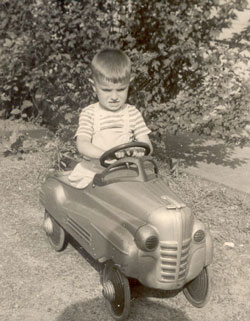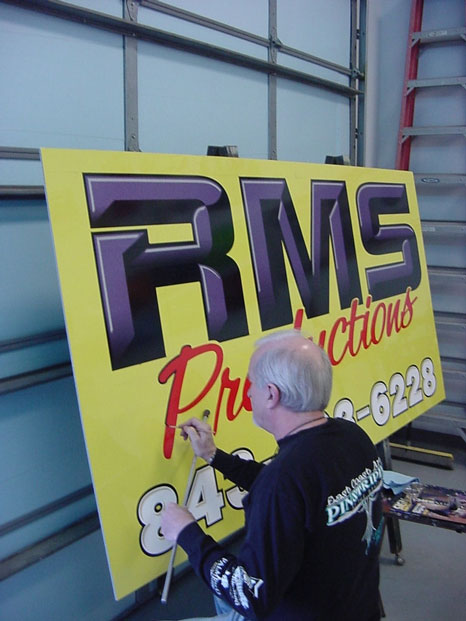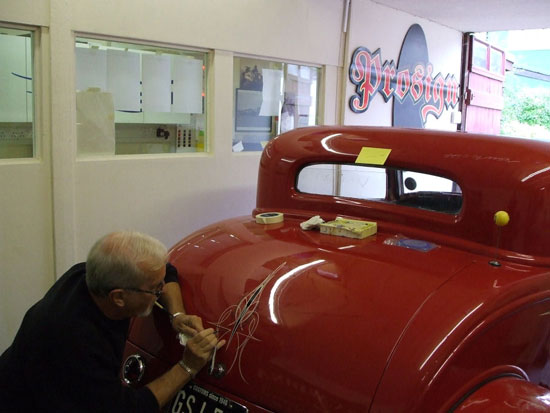 I did my first 'professional' striping job (I got $5.00 for it) on a '51 Chevy when I was 13 years old.

In high school my art teacher gave me a 4 year 'course' in sign painting after he saw me letter a '58 Pontiac in the high school parking lot.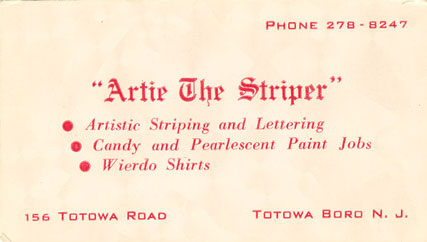 After a stint in the Navy, I spent time as a rock band roadie, semi-professional drag racer, and bartender, before settling back into the sign painter/pinstriper business. I've owned shops in New Jersey, Colorado, and Pennsylvania, and presently I reside in Surfside Beach, South Carolina.

I've been a Tech Rep for SignGold Corp. (thanks Bill!) and I currently do Edge demonstrations and training for Gerber Scientific Products, along with operating East Coast Artie's Pinstriping at the Beach, and manufacturing the 'Sealitpen', vinyl edge sealer. When I'm not in the shop, I like to draw, play music, and cruise.

Thanks to Linda, my wife of 33 years, for letting me follow my dreams, and STILL allowing me to travel to Letterhead meets, car shows, and hang out with my Pinstiper friends all over the world.

I'd also like to recognize people who have influenced me over the years:
My cousin Sonny for the hot rod magazines, when I was 8 years old.
Customizer, Tony Bruskivage for the faith and opportunity.
Kenny the Mad Striper for the brush.
Car designer, Harry Bradley for the perspective and the chrome.
My art teacher, Gene Czernacki for the education.
Larry Watson for the great designs.
And all the other artists who have made me strive to be better.
If you're ever near Myrtle Beach, South Carolina, stop by and visit my shop. The door is always open if you catch me at home.